Mentorship Programs
My mentorship program aims to support and empower other yoga teachers to thrive in their business.
Why mentoring? My biggest hurdle in my early days of yoga teaching was confidence – selling myself, my offerings and delving into the world of yoga business. I would have loved a mentor to guide me through my early days and that is why I am so passionate and excited to offer these mentorship programmes. I would love to help you shine as a yoga teacher in your own unique way! There are 2 mentorship programmes on offer, 1 to 1 or group sessions.
1 to 1 Mentor Support       

       
Expect refreshing change, and new vitality to your Yoga business and personal practice. Sessions may include:
Help with growing your classes, 1-to-1 sessions, workshops, and retreats.
Practical business tools to help with marketing, social media presence, accounts, and time management.
Looking at your money beliefs and what might be blocking you from your vision and abundant flow.
Finding your authentic voice and teaching style.
Tailored sessions to your needs. Book in for a free consultation to discuss your needs and the right package for you. Monthly 1 to 1 mentoring support includes;  3  x 2 hour face to face or Skype calls (or other video call provider), email support and workbooks specific to your needs.
12 week Mentor & CPD course
This unique package is for yoga teachers who want to grow more confident in their teaching and expand their yoga knowledge to better aid their students. Deepen your understanding of Yoga philosophy, Yoga anatomy, the Energy body, Adjusting in class, and Teaching Methodology to add value to your teachings and offerings. Learn practical tools to run a successful Yoga business. You will be encouraged and supported to find your own voice and teaching style. You will also focus on developing and deepening your own regular yoga practice. You will gain Yoga Alliance CPD hours on this course.
12 week Mentor & CPD course Offerings….
15 hours Yoga Alliance CPD Certificate.
12 weeks of email support from Gemma.
4 x Physical Yoga workshops (2 hours) held at a yoga studio in Hove.
7 x Yoga Tutorial & Discussion workshops (1-2 hrs) held at a yoga studio Hove. Time to check in, connect, and explore week's subject. Tea and cake optional after class.
Homework includes journaling questions and action points specific to your individual needs.
1-to-1 Thai Yoga Massage healing session (2 hours) with Gemma towards the end of the course. Time for you, to relax, rejuvenate, process, and to help balance bodies energy (Gemma's home).
You will be added to Gem Yoga's 1-to-1 private session referral list.
Connect with a supportive network of yoga teachers through a private Facebook group.
Recommended reading list.
Yoga CPD Workshops will cover:
Yoga Anatomy: Deepen your knowledge of what is happening in the body anatomically around the hips and shoulders in different asanas. You will have a deeper understanding of muscles lengthened and strengthened in each posture. You will also learn how to adapt and modify your classes for student with weak areas whether due to lack of strength or flexibility. Learn common posture mis-alignments and how to re-train the body to its natural place. We will also look into the chakras and energetical/emotional blockages that hold us back in the hips and chest areas.
Adjustments: Deepen your knowledge and awareness of hands on adjustments and assists. We will cover; The importance of when to give an appropriate adjustment, using your intuition, Having a clear intention, Appropriate touch and pressure, Verbal cues, Observing different student's body types, Applying pressure with breath, Correct body weight distribution and your posture when giving an adjustment so it is safe for you, Using props to aid your assist, Build confidence giving adjustments and assists to your students.
Inversions: Feel confident teaching inversions to your students. You will learn what it really means to engage the body's core muscles. We will cover a variety of inversions, arm balances and handstand play. You will learn lots of fun drills to practice to develop inner core strength and strong shoulder stability to maintain more challenging inversions. You will also learn asanas to help you progress to them, modifications, use of props and contra-indications.
Myofascial Release: Through physical and emotional trauma, and poor posture, fascia scars and hardens in the affected site and along the tension lines imposed on it. This causes the fascial network to lose its cushioning mechanism and internal structures become pulled out of alignment. This in turn creates an abnormal pressure, crushing nerves, blood and lymphatic vessels, and further creating tension on adjacent pain-sensitive structures and those along the fascial pull. This also has an effect on obstructing the chi/energy flow of the body. You will learn specific myofascial release pressure points, to allow the hardened connective tissue to release.
Running a Yoga business: You will learn practical tools to help you run your business as a self-employed yoga teacher. We will cover; accounting, marketing, admin, time management and social media. You will also look at your money blocks and how you can improve your current money beliefs, to move towards a life of financial freedom and abundance consciousness.
Additional Workshops will cover: Money beliefs and your Yoga business vision – Vision boards. Addressing Self-worth, Self-empowerment and Self-trust in growing a successful Yoga business. Deepening your asana practice. Yogic texts and philosophies and how we implement them into our daily lives. Teaching Methodology – finding your authentic teaching style and voice. Discussion on responsibility/role model as a Yoga Teacher. How can we best aid our students. Letting go of your old story, and writing your NEW story.
Together in our yoga tribe we will commit to a 6-days a week asana practice. We will take Full Moon and New Moon days as rest days, time for self-care and deeper reflection.
You must keep a journal through the course. You can buy a new one if you like, for this special purpose. You can journal thoughts, observations, business ideas and vision, homework given, self-discoveries and reflections on your personal yoga practice.
Next Course: January – April 2019 (8 SPACES ONLY)
Investment: £1,500 (Earlybird £1,200 before 30th November)
*Instalment plans available
"In one mentoring session with Gem, I felt so much clearer about my direction and how to set up my yoga business without over complicating things. Gem is warm, positive, motivational and incredibly knowledgeable about the business of yoga. She gave me personalised support based on my situation and intentions and helped me to cut through my mind clutter!"


Katie Ford, Portslade
"Gemma has given me belief that my life can be good, easy and successful. We have created a plan, put short and long term goals together and we have worked on positive affirmations and beliefs. I found the consultation with Gemma very helpful, it has given me clear directions how to change my life to fuller, happier and more successful."


Anna Ludwig, Hove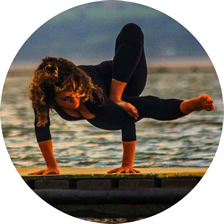 "Gem's 1 to 1 mentoring session was empowering, thoughtful, compassionate and immensely helpful. Gem's experience, empathy, understanding and heartfelt approach to encouraging me to find (and stay) on my path has enthused and invigorated me beyond words. I now have a more coherent approach to making the steps toward my vision."


Chloe Skinner, Brighton
Join the Gem Yoga Tribe!
Sign up today and receive a FREE chakra balancing meditation.