Gem Yoga Retreats & Courses
Retreats
Eat, Sleep, Yoga Repeat!' Javea Retreat Spain
16 – 21 June 2018 – Recharge and Join Gemma and Rosie in sunny Spain! 6 days and 5 nights of Vinyasa, Hatha, Yin, Restorative and Aerial Yoga.
We'll start the day with a warming, energising morning Vinyasa Flow Yoga class by the pool or head to the studio for Sun Salutations and inversion play in an Aerial Yoga (you can alternate each morning).
Spend the day sunbathing, swimming, take a trip down to the beach, take a hike, cycle tour or try Stand Up Paddle Board (SUP) yoga.
We'll meet up by the pool for a group Restorative and Yin Yoga practice before our evening meal and lie down in the Lotus Bell Tent for a long and luxurious Yoga Nidra practice in the evening, leaving you really relaxed and ready for rest.
What's included?
6 nights accommodation in our own villa with swimming pool and wifi.
Transfers to and from the airport.
All meals and healthy snacks – Vegetarian food and vegan options.
A 30 minute Thai Yoga Massage.
3 yoga classes daily described above.
A mountain Aerial Yoga workshop.
A beach trek, along the white cliffs, a meditation on beach and Snorkelling.
A trip into a near by town and port.
What's additional? Flights. Stand Up Paddleboard (SUP) Yoga, Bootcamp, pole fitness, massages, beauty treatments.
Spaces Limited. £750
Email Gemma for more info and booking: gemyogalife@gmail.com
Courses
18th – 21st March 2019 – This unique experience allows you to complete your Yin Yoga Teacher Training in a stunning retreat centre in the Sussex countryside. Surrounded my nature, and away from the responsibilities of life, you can completely unwind, learn about the wonders of Yin Yoga, and experience the benefits at a deeper level on retreat. We have chosen the course to run during Spring equinox, when the days start getting longer, nature starts blossoming and we can attune our energy with this grounding, awakening, and transformational time. Our yoga sessions will take place in a newly built yoga studio, previously a barn, next to the retreat house.
1st – 30th Sept 2019 – Gem Yoga 200hr Yoga Teacher Training course will be run on the beautiful thai island of Ko Samui. The course itself is an intensive 28-day (200 hours) training program designed for a small group size of 10 students. Gem Yoga is offering you an opportunity to express your love and enthusiasm for yoga – for life! An opportunity to take your yoga practice and inner exploration to the next level. Taking our intensive course will provide successful students with the bedrock skills to establish their own business.
Yoga Adjustment Workshop for Teachers @Dynamic Hot Yoga Hove
Sunday 4th November 1pm – 4pm
£35
BOOK WORKSHOP & MORE INFO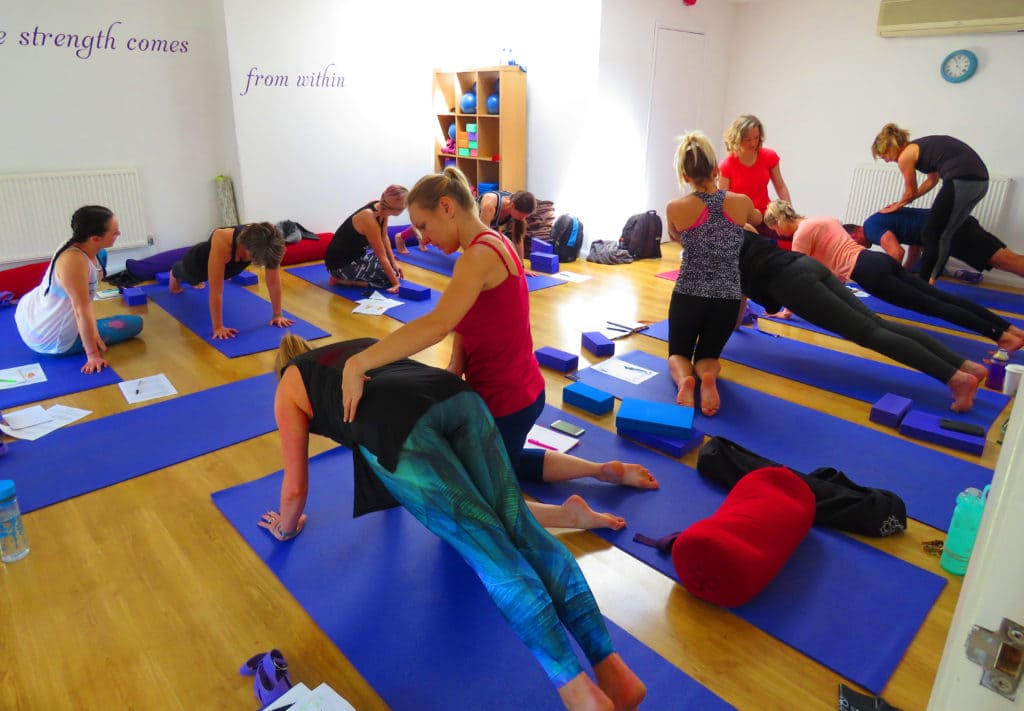 Subscribe to my monthly Yoga Newsletter for latest yoga events and offers!