Yoga Teacher Mentorship Program
It has been a gift, and an absolute joy to teach Yoga the last 10 years. I love watching people's journeys and inspiring them towards their truth. This course offering has manifested organically, and I am very excited to support and guide Yoga teachers towards your truest path of your Yoga businesses, and your innermost dreams.
12 week Mentorship Program & CPD course
This unique package is for yoga teachers who want to grow more confident in their teaching and expand their yoga knowledge to better aid their students. You will deepen your understanding of Yoga philosophy, Yoga anatomy, the Energy body, Adjusting in class, Teaching Methodology and how to run a successful Yoga business. You will be encouraged and supported to find your own voice and teaching style. You will also focus on developing and deepening your own regular yoga practice. You will gain Yoga Alliance CPD hours on this course.
Sadhana, Your personal spiritual practice, should be at the core of a practicing Yoga Teacher. Often, when we start teaching yoga, somehow our own personal practice can suffer. During this course you will learn to take your own practice deeper. Exploring the depth of your being. This is why we love the practice, and this is the essence of what we want to share. You will explore cultivating awareness of your body daily. As Yoga Teachers, we are role models to our students. It is our responsibility to live and act from a place of compassion, and to be mindful and present.
You will learn practical tools to help you run a healthy yoga business. This course will help you grow your classes, 1-to-1 work, teach workshops, retreats, and help you to build a successful business doing the thing you love! You will work on your money beliefs and look into what might be blocking you from your abundant flow.
Each week will have a different focus, to explore and deepen your experience of Yoga. You will be given homework and support throughout. Exercises will include workshops, journaling, meditations, recommended reading and focus on your own practice.
Gemma is here to support you through this journey. Expect refreshing change, and new vitality to your Yoga business. Gemma is here to support and encourage you to be the amazing yoga teacher you are.

Start: Week of 3rd September 2018
Finish: Week of 19th Nov 2018
8 SPACES ONLY
Offerings:
12 weeks of email support from Gemma. You will have weekly homework and check-ins.
15 hours Yoga Alliance CPD Certificate.
Group session during week 1 (1.5 hours). A session to explore with each other, why you are on the course, and how can you get the most out of this course. Get to know your yogi tribe!
4 x Physical Yoga workshops held at The Healthy Living Company.
6 x Yoga Tutorial & Discussion workshops (1-2 hrs). Time to check in, connect, and explore week's subject.
1-to-1 Thai Yoga Massage healing session (2 hours) with Gemma towards the end of the course. Time for you, to relax, rejuvenate, process, and to help balance bodies energy (Gemma's home).
Discounted additional Thai Yoga Massage Treatments during course.
You will be added to Gem Yoga's 1-to-1 private session referral list
Connect with your tribe through the private 'Yoga Teacher Tribe with Gems' Facebook group
Join a support network of other successful yoga teachers
Recommended reading list
*Meetings will be held at Studio Plus Coffee, Hove. Coffee and cake after to connect with your yoga tribe optional.
Yoga CPD Workshops will cover:
Yoga Anatomy: You will deepen your knowledge of what is happening in the body anatomically around the hips and shoulders in different asanas. You will have a deeper understanding of muscles lengthened and strengthened in each posture. You will also learn how to adapt and modify your classes for student with weak areas whether due to lack of strength or flexibility. Learn common posture mis-alignments and how to re-train the body to it's natural place. We will also look into the chakras and energetical/emotional blockages that hold us back in the hips and chest areas.
Adjustments: Deepen your knowledge and awareness of hands on adjustments and assists. We will cover; The importance of when to give an appropriate adjustment, Using your intuition, Having a clear intention, Appropriate touch and pressure, Verbal cues, Observing different student's body types, Applying pressure with breath, Correct body weight distribution and your posture when giving an adjustment so it is safe for you, Using props to aid your assist, Build confidence giving adjustments and assists to your students.
Inversions: Feel confident teaching inversions to your students. You will learn what it really means to engage the body's core muscles. We will cover a variety of inversions, arm balances and handstand play. You will learn lots of fun drills to practice to develop inner core strength and strong shoulder stability to maintain more challenging inversions. You will also learn asanas to help you progress to them, modifications, use of props and contra-indications.
Myofascial Release: Through physical and emotional trauma, and poor posture, fascia scars and hardens in the affected site and along the tension lines imposed on it. This causes the fascial network to lose its cushioning mechanism and internal structures become pulled out of alignment. This in turn creates an abnormal pressure, crushing nerves, blood and lymphatic vessels, and further creating tension on adjacent pain-sensitive structures and those along the fascial pull. This also has an effect on obstructing the chi/energy flow of the body. You will learn specific myofascial release pressure points, to allow the hardened connective tissue to release.
Running a Yoga business: You will learn practical tools to help you run your business as a self-employed yoga teacher. We will cover; accounting, marketing, admin, time management and social media. You will also look at your money blocks and how you can improve your current money beliefs, to move towards a life of financial freedom and abundance consciousness.
* Workshops will be held at The Healthy Living Company. (92-98 Northease Dr, Hove BN3 8LH)
Schedule
Week 1 – Wed 5th Sept 12.30 – 2pm @Studio Plus Coffee
Group Session – What do you want to get from this course?
Meet your tribe. Connect with your fellow yogis to find out why you are on the course, and how we can support each other. Nutrition advice for health and vitality.
Week 2 – Friday 14th Sept 1-3pm @The Healthy Living Company
Shoulder & Hip Anatomy Workshop
Week 3 – Wed 19th Sept 12.30 – 1.30pm @Studio Plus Coffee
Group Session – Money beliefs and your Yoga business vision. Addressing Self-worth, Self-empowerment and Self-trust in growing a successful Yoga business. Be Amazing! Vision board your future.
Week 4 – Friday 28th Sept 1-3pm @The Healthy Living Company
Myofascial Release Workshop
Week 5 – Wed 3rd Oct 12.30 – 1.30pm @Studio Plus Coffee
Group Session – Expanding on self-beliefs and worth. Advice on Yoga offerings – running classes, 1 to 1s, workshops, retreats, courses. We will also cover lesson planning, sequencing.
Week 6 – Friday 12th Oct 1-3pm @The Healthy Living Company
Week 7 – Wed 17th Oct 12.30 – 1.30pm @Studio Plus Coffee
Group Session – Deepening your yoga practice. Observation of your yoga practice during course so far.
Looking into yogic texts and philosophies and how we implement them into our daily lives.
Week 8 – Friday 26th Oct 1-3pm @The Healthy Living Company
Week 9 – Wed 31st Oct (SAMHAIN) 12.30 – 1.30pm @Studio Plus Coffee
Group Session – Teaching Methodology – finding your authentic teaching style and voice, observations of change when teaching.
Week 10 – Friday 9th Nov 1-3pm @Studio Plus Coffee
Yoga business Workshop – Money beliefs, Accounting, marketing, admin, time management, social media.
Week 11 – Wed 14th Nov 12.30 – 1.30pm @Studio Plus Coffee (can book 1-to-1 this week too)
Group Session (1 hour) Responsibility/role model as a Yoga Teacher. How can we best aid our students.
Letting go of your old story, and writing your NEW story.
Week 12 – 19th Nov Week – BOOK 1 to 1 with me
1-to-1 – 2hr session – Thai Yoga Massage Treatment. Self-care. Feedback and evaluation.
Feedback and Evaluation.
*Together in our yoga tribe we will commit to a 6 days a week asana practice. We will take Full Moon and New Moon days as rest days, time for self-care and deeper reflection. 
*You must keep a journal through the course. You can buy a new one if you like, for this special purpose. You can journal thoughts, observations, business ideas and vision, homework given, self discoveries and reflections on your personal yoga practice. 
Investment: £1,500 (Earlybird £1,000 before 31st July – first 3 spaces only)
*Instalment plans available.
To Book Contact Gemma:
Email: gemyogalife@gmail.com
Mobile: 07746721603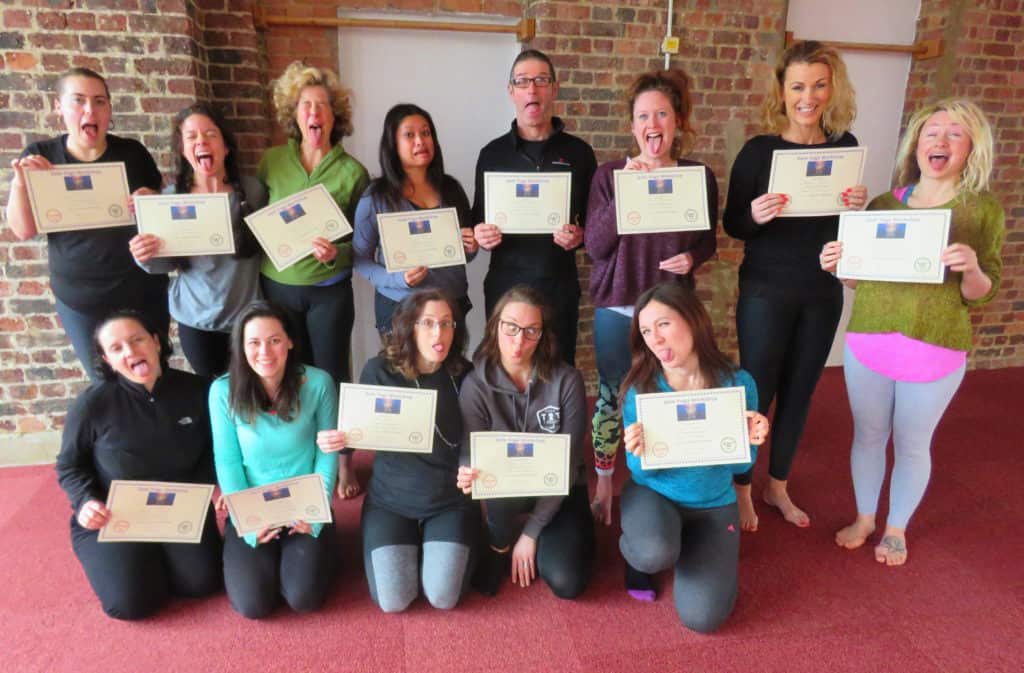 "Gem's teaching style belies her deep knowledge and commitment to the practice of yoga.The compassion which informs her teaching means that she has the unique ability to make you feel that the impossible is achievable, This is a reflection of her commitment and belief in the power of yoga, without in any way subtracting from her infectious energy and love for life! I feel that Gemma's yoga teacher training covers all the basics; compassion and love of yoga combines with keen business acumen and an appreciation of the competitive world that we live in. Gemma has the unique ability to combine practical, robust knowledge with spiritual understanding in a down to earth non-judgemental way; just wonderful!" – Georgina Collins, Hove, East Sussex, Yoga Teacher